An open forum for young artists to present their work in collaboration with Rhizomatiks and ELEVENPLAY.
The rapid evolution and commonization of digital content toolkits and software environments over recent years has encouraged more creators to experiment in the media technology field. Greater access to hardware such as VR devices and low-cost projectors has set the stage for a flourishing of imaginative immersive work.
"Endless Imaginary" was conceived as an extension of Rhizomatiks' long-standing commitment to support the next generation of creative talent. In the spring of 2020, we held an open call for submissions from artists aged 25 and younger. Four artists between the ages of 20 and 24 were selected and offered an opportunity to exhibit their work at the Panasonic Center Tokyo, alongside a new large-scale projection mapping by Rhizomatiks spanning three large screens.
The works in "Endless Imaginary" drew on motion capture data from the dancers of ELEVENPLAY (the dance company led by director/choreographer MIKIKO) and were made viewable online around the world.
During the exhibition, a talk event brought Rhizomatiks into dialogue with young creators, facilitating a lively discussion on the next generation of creation.
---
Exhibition
-Panasonic Center(3-5-1 Ariake, Koto-ku, Tokyo)
April 1st – April 4th, 2021
-Online venue
April 1st – April 8th, 2021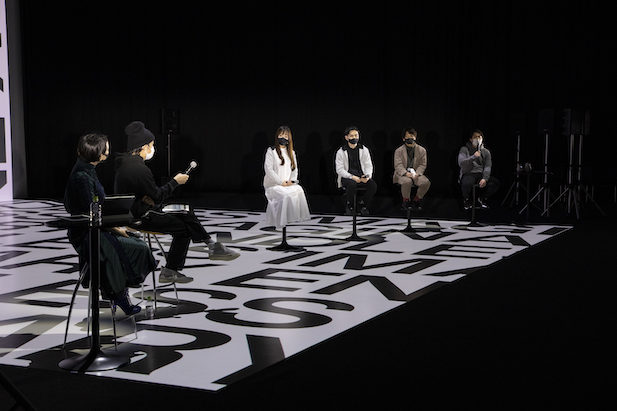 Talk Session
Part 1
"On the future of visual expression, the coronavirus pandemic, and our work"
4/2 (Sat.) 7:00PM
Speakers: Daito Manabe, Satoshi Horii, Yudai Okuyama, Kosaku Namikawa, Tatsuya Hosono, Yuhu Liu, et al.
Moderator: Arina Tsukada
Part 2
"The power of imagination x future (inter)relations – through technology- (working title)"
4/2 (Sat.) 8:30PM
Speakers: Shouyu Inoue, Takayuki Kashiwabara, Akimoto Ishida, Fumika Kimura (Panasonic Corporation), Daito Manabe, et al.
Moderator: Arina Tsukada
Venue: Special online venue