FLYING TOKYO 2022: A day of NFTs and open-source community with top international creatives.
On July 31, Daito Manabe joined the world's leading creative minds for Flying Tokyo 2022, the latest installment of a long-running lecture and discussion series that seeks to imagine what tomorrow holds for the digital art scene.
Back after a three-year hiatus amid the coronavirus pandemic, Flying Tokyo 2022 was conducted fully remotely, providing a fittingly digital forum for this year's theme: a deep dive behind the curtain of NFTs and the open-source community, in conversation with acclaimed media artists Kyle McDonald, Lauren McCarthy, and Shunsuke Takawo.
The live-streaming format also accommodated a record audience for this year's event, reaching a high of 1,879 concurrent viewers from around the world.
Flying Tokyo 2022 was organized with the support of BE AT TOKYO, a platform that interweaves the histories, people, and ideas that will create the new culture in Tokyo.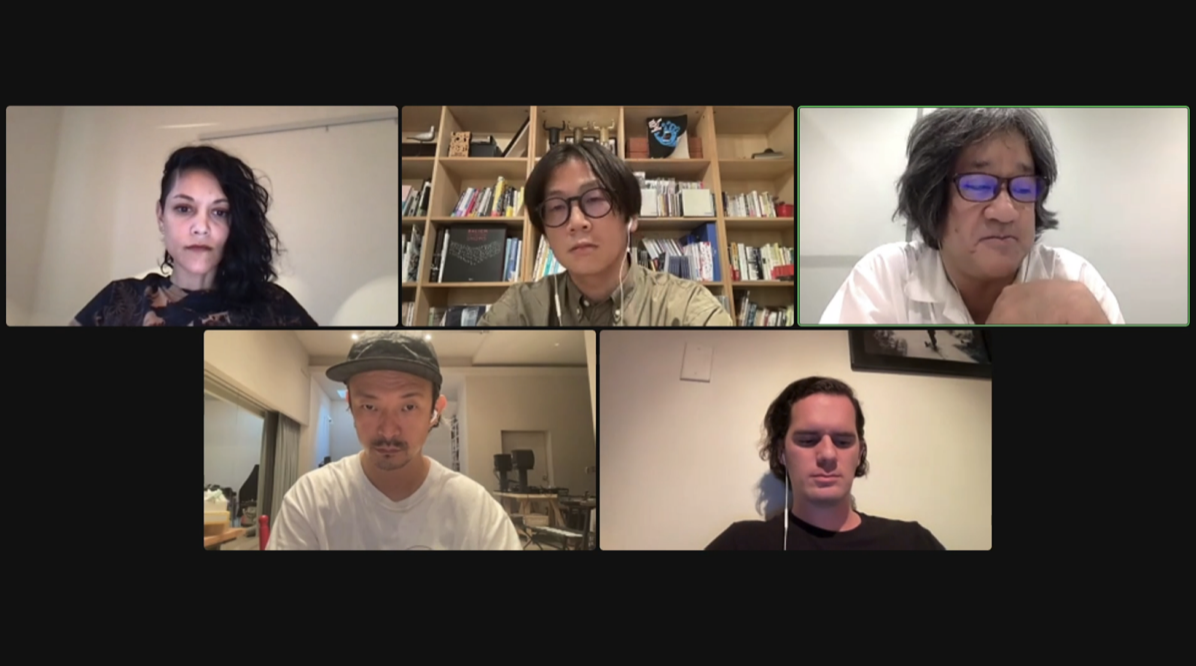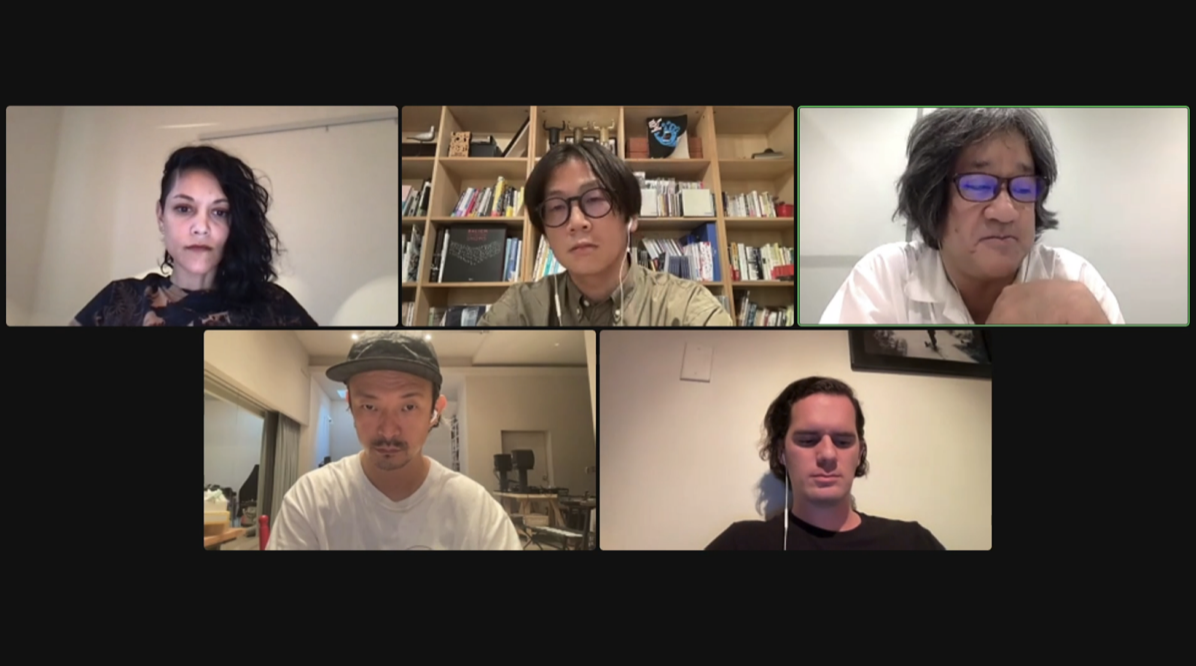 Outline
July 31st 2022, 16:00-18:00
Streaming Event
Panelists:
Kyle McDonald, Lauren McCarthy, Shunsuke Takawo, Daito Manabe
Moderator:
Minoru Hatanaka
Planning and Direction: Daito Manabe
Sponsored by BE AT TOKYO
Support from the Yamaguchi Center for Arts and Media [YCAM]
Management: Rhizomatiks
---
Speaker Profiles
Kyle McDonald
Kyle McDonald is an artist working with code. He is a contributor to open source arts-engineering toolkits like openFrameworks, and builds tools that allow artists to use new algorithms in creative ways. He has a habit of sharing ideas and projects in public before they're completed. He creatively subverts networked communication and computation, explores glitch and systemic bias, and extends these concepts to reversal of everything from identity to relationships. Kyle has been an adjunct professor at NYU's ITP, and a member of F.A.T. Lab, community manager for openFrameworks, and artist in residence at STUDIO for Creative Inquiry at Carnegie Mellon, as well as YCAM in Japan. His work is commissioned by and shown at exhibitions and festivals around the world, including: NTT ICC, Ars Electronica, Sonar/OFFF, Eyebeam, Anyang Public Art Project, Cinekid. He frequently leads workshops exploring computer vision and interaction.
http://kylemcdonald.net
> Recent Work:
SAKOKU [Walled Garden] Project 2022 "Unlearning Language"
https://www.ycam.jp/events/2022/unlearning-language/
Lauren Lee McCarthy
Lauren Lee McCarthy is an artist examining social relationships in the midst of surveillance, automation, and algorithmic living. She is the creator of p5.js, an open source creative coding platform that prioritizes inclusion and access, and a part of the Processing Foundation. She has received grants and residencies from Creative Capital, United States Artists, LACMA, Sundance, Eyebeam, Pioneer Works, Autodesk, and Ars Electronica. Lauren's work has been exhibited internationally, including the Barbican Centre, Ars Electronica, Fotomuseum Winterthur, Haus der elektronischen Künste, SIGGRAPH, Onassis Cultural Center, IDFA, Science Gallery Dublin, and the Seoul Museum of Art. Lauren is an Associate Professor at UCLA Design Media Arts.
https://lauren-mccarthy.com/
> Recent Work:
SAKOKU [Walled Garden] Project 2022"Unlearning Language"
https://www.ycam.jp/events/2022/unlearning-language/
Shunsuke Takawo
Shunsuke is a creative coder, born in Kumamoto in 1981. He launched the NFT art project "Generativemasks" In 2021, in which he promised to donate all the proceeds from the artist's work to charity. The project garnered significant attention, and 10,000 units were sold out within two hours of its release. He is the representative director of the Generative Art Foundation and an associate professor/lecturer at Konan Women's University, Department of Media Expression.
https://cenkhor.org
Daito Manabe
Artist, programmer, and DJ.
Launched Rhizomatiks in 2006. Specially-appointed professor at Keio University SFC.
Manabe's works, which range into a variety of fields, take a new approach to everyday materials and phenomena. However, his end goal is not simply rich, high-definition realism by recognizing and recombining these familiar elemental building blocks. Rather, his practice is informed by careful observation to discover and elucidate the essential potentialities inherent to the human body, data, programming, computers, and other phenomena, thus probing the interrelationships and boundaries delineating the analog and digital, real and virtual.
http://www.daito.ws
Moderator Profile
Minoru Hatanaka
Born in 1968, Minoru Hatanaka is the chief curator at the NTT InterCommunication Center (ICC). He graduated from Tama Art University with a degree in Fine Arts. He's been involved with the ICC before its establishment in 1996. He's curated many exhibitions such as "Sound Art – Sound as Media" (2000), "Sounding Space" (2003), "silent dialogue" (2007), "Vibrations of Entities" (2010), "ART + COM/Rhizomatiks Research" (2017), and "Ryuichi Sakamoto with Shiro Takatani | Installation Music 2 IS YOUR TIME" (2017). He's also worked on solo exhibitions for artists like Dumb Type, Maywa Denki, Laurie Anderson, Kazuhiko Hachiya, Rhizomatiks, Arata Isozaki, Yoshihide Otomo, and John Wood and Paul Harrison. He's the co-editor, alongside Akihiro Kubota, of Media Art Genron (Film Art, 2018).
https://www.ntticc.or.jp/en/