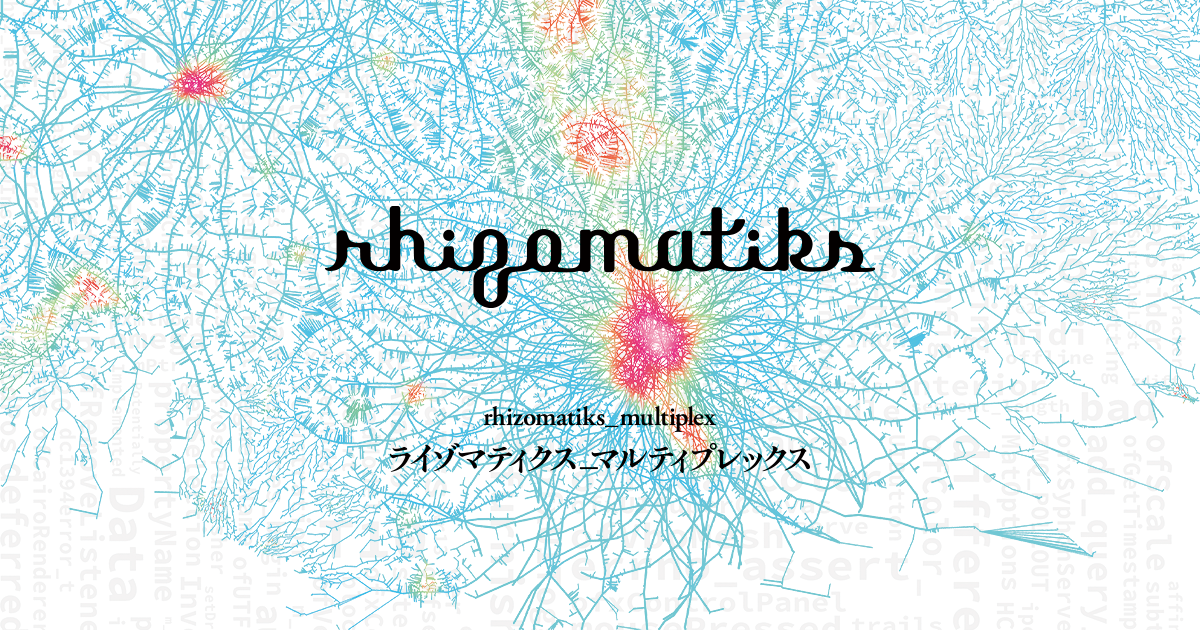 The first large-scale solo exhibition by Rhizomatiks, "rhizomatiks_multiplex," will be held at the Museum of Contemporary Art Tokyo.
We are pleased to announce a solo exhibition by Rhizomatiks to celebrate its 15th anniversary in 2021.
This exhibition will introduce several new projects that are critically synchronized with the current society and the updated version of the significant past work. Additionally, Rhizomatiks' challenges of trial & error behind a variety of activities that have been developed by Rhizomatiks both in Japan and overseas will be presented through video recordings, actual exhibits of original devices, and other valuable documentation.
We hope you can join and enjoy this exhibition, which will integrate a multiplex of remarkable approaches that synchronize with the ever-changing world combined with corresponding online experience.
Presenting the "New Role of the Artist" – The Past and Future of Rhizomatiks
Since its foundation in 2006, Rhizomatiks has been expanding its realm of so-called "media art" to a variety of projects such as that requires R&D heavy approach or involves businesses such as architecture, design, advertising and entertainment, which led us to influence society from a variety of angles. As a full-stack collective that handles ideas elaboration, hardware/software development, and operations, our team consists of artists, engineers, programmers, and etc.
By integrating computing, coding, and engineering technologies with the wide variety of communication hidden in modern society and human physicality including virtuality, Rhizomatiks has produced many works that reveal new aspects and give insights. In the times of post-Corona society, where the entire world goes online and new possibilities for human communication are questioned, We, as Rhizomatiks which has been presenting many projects and proposing innovative use of technologies, are inclined to show the "new role of artists" in the ever-changing world through its experimental and ambitious output.
Hybrid Exhibition Combined with the Online Venue
The exhibition, as named as "multiplex", is held at the offline and online venue in combination with the Museum of Contemporary Art Tokyo and the website, introducing a comprehensive archive of the cross-disciplinary expression of Rhizomatiks and new projects.
This website replicates the venue of each space at the Museum of Contemporary Art Tokyo in a 3D model so that online viewers can have a simulated experience of walking through the real museum. At the same time, the location information of the audience inside the museum is visualized to crossover between online and offline viewing.
We hope you will experience and enjoy "rhizomatiks_multiplex",  an exhibition that offers two ways of viewing experience where you can come back and forth in a multidimensional way: offline viewing in real space and online viewing of simulated experience.
Highlights of the exhibition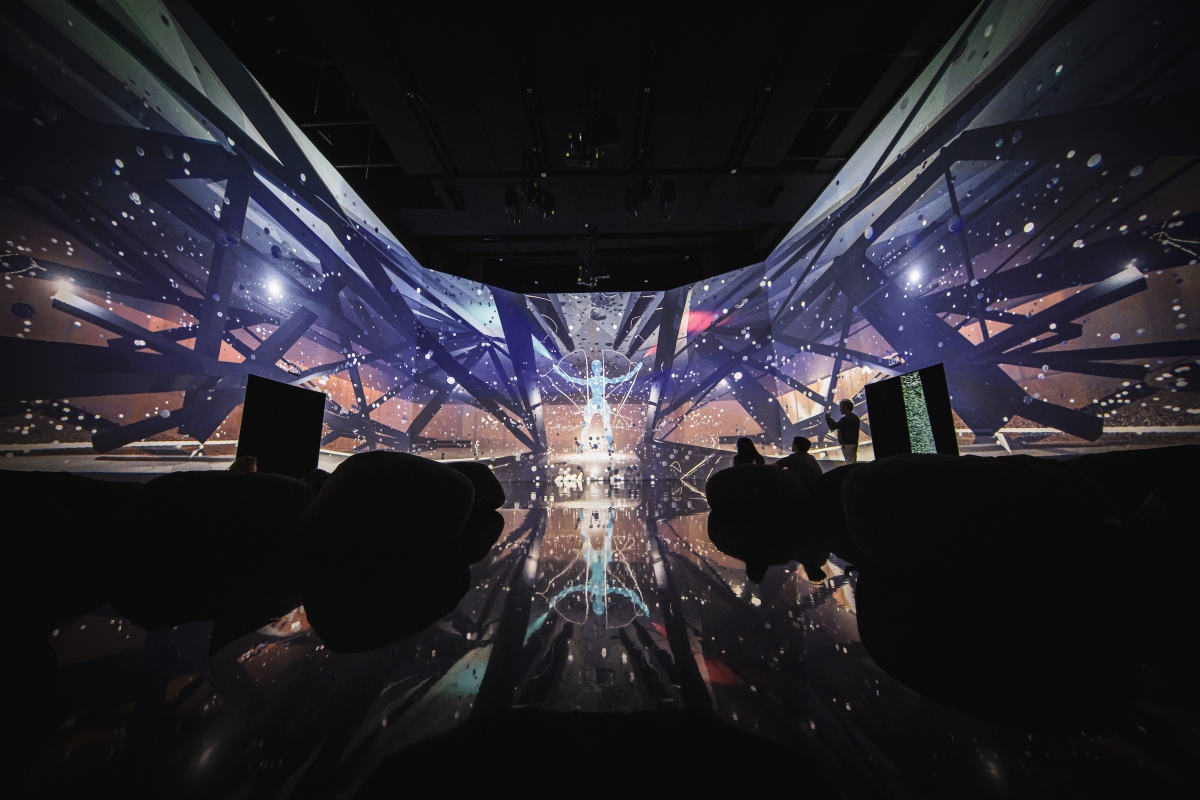 This exhibition introduces new works as well as the updated version of significant past work. In addition, you can see a video recording that comprehensively introduces our activities and hardware that have been developed for past projects.
One of the new works, "Rhizomatiks × ELEVENPLAY "multiplex", is an installation where the motion data converted from the motion of the dancers from "ELEVENPLAY", a dance company led by the director and choreographer MIKIKO, are composed with video projections and moving robotics.
15 Panasonic DLP®TM SOLID SHINE laser projectors* are projected onto a space of about 7 meters high and 27 meters long, creating an immersive environment. With seamlessly blended images and an optimized layout that heightens the sense of realism, you can experience the most cutting-edge visual expression. Expressions in the real space are integrated into a virtual space, shifting the viewer's perspective and provoking thoughts of a new humanity.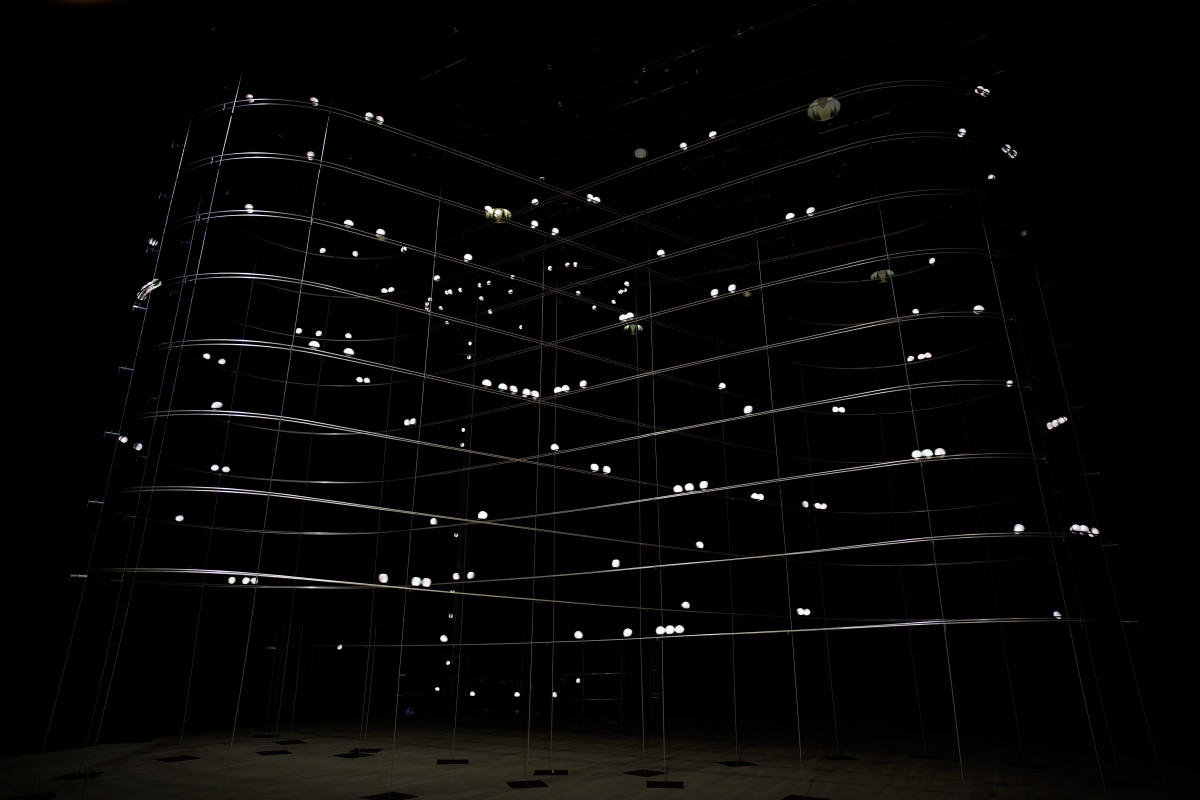 Artist Profile
Rhizomatiks
Rhizomatiks explores new possibilities of technology and expression focusing on experimental projects which involve R&D heavy approach, while taking responsibility in every process of the project from hardware and software development to operations. Rhizomatiks execute R&D projects and creation with elaborate research on the relationship between humans and technologies. Additionally, the company keeps presenting more cutting-edge research and works through collaboration with other artists, researchers, and scientists.
Exhibition Info
Exhibition Period | Sat. National Holiday. 20 March – Sun. 20 June 2021
Closed | Mondays (except 3 May), 6 May
Opening Hours | 10:00-18:00 (Tickets available until 30 minutes before closing.)
Admission | Adults – 1,500yen / University & College Students, Over 65 – 900yen / High School & Junior High School Students –500yen / Elementary School Students & Younger – Free
* Ticket includes admission to the MOT Collection exhibition.
* Children younger than elementary school age need to be accompanied by a guardian.
* Persons with a Physical Disability Certificate, Intellectual Disability Certificate, Intellectual Disability Welfare Certificate, or Atomic Bomb Survivor Welfare Certificate as well as up to two attendants are admitted free of charge.
* There are also reserved priority tickets.
Venue | Museum of Contemporary Art Tokyo Exhibition Gallery B2F
Organized by | Museum of Contemporary Art Tokyo operated by Tokyo Metropolitan Foundation for History and Culture
Supported by | The Agency for Cultural Affairs Government of Japan in the fiscal 2020
Sponsored by | Bloomberg L.P.
In Cooperation with | Abstract Engine Co., Ltd.
Technical Cooperation by | Panasonic Corporation / Canon Marketing Japan Inc. / DataSign Inc. / Sony Music Entertainment (Japan) Inc. / Kyuzan Inc.