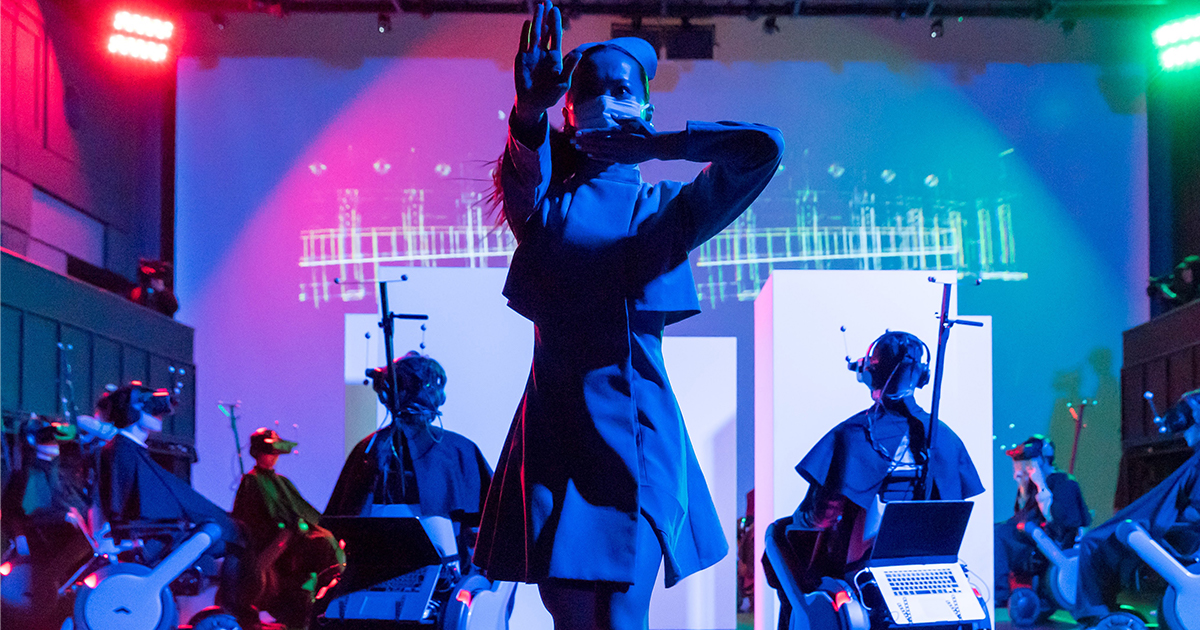 Challenge the "evolution" new experience and expression. After five years from the premiere, the latest version of "border 2021" has been made.
The dance company, ELEVENPLAY, the director-choreographer, MIKIKO, and the collective led by Daito Manabe and Motoi Ishibashi, Rhizomatiks presented a dance piece "border" in 2015.
We developed and updated our experiment in 2015 to establish a new expression model for both online and on-site experience for the post-COVID-19 era.
Please enjoy "border 2021" that challenges the "evolution" of experience and expression.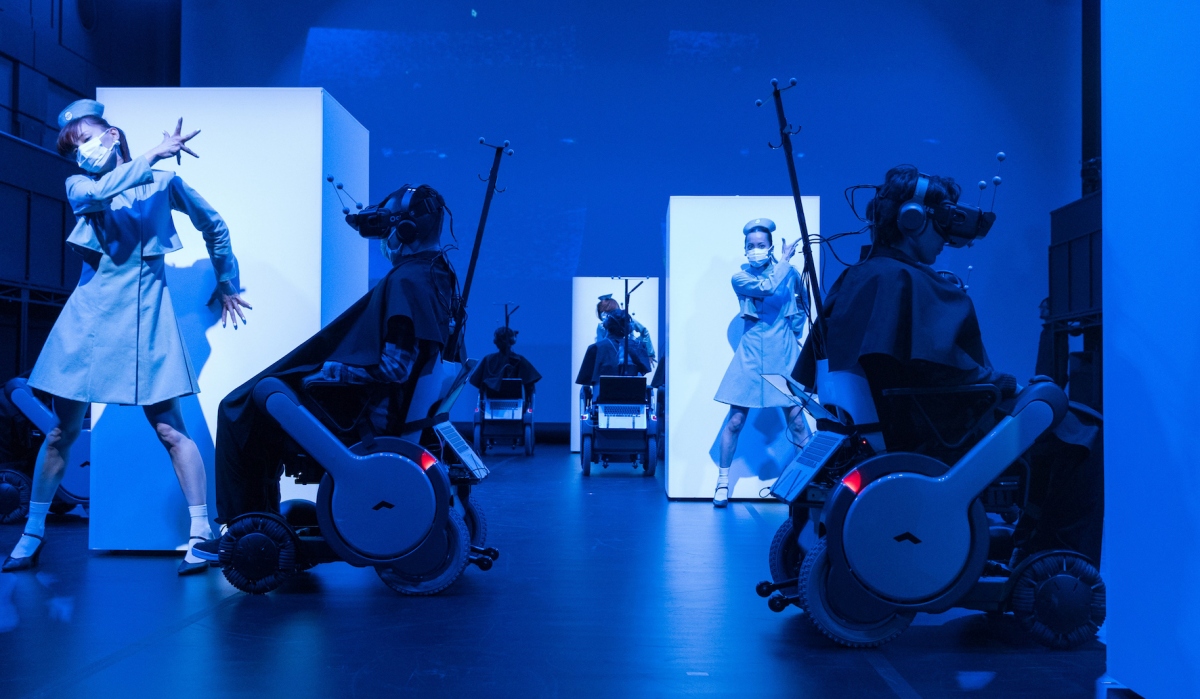 From "border" to "border 2021"
After its premiere of "border" at Spiral Hall in Tokyo in 2015, its updated version was presented at the Yamaguchi Center for Arts and Media [YCAM].
"border" is the work that transforms the border of the virtual and the real world.
The audience sits in a personal mobility device called "WHILL*", and their movements are completely controlled by the program. They also wear a Virtual Reality headset display to come back and forth between the fictional world of VR/AR and the real world brought back by the dancers to confuse various boundaries.
In 2015, there were no products or services yet, and we had to make our own devices. However, in the past few years, VR devices with higher resolution became available and it is getting more immersive and realistic. The quality of both visual and sound in the 2021 version has been improved by making the most of those innovations with newly added choreography and direction.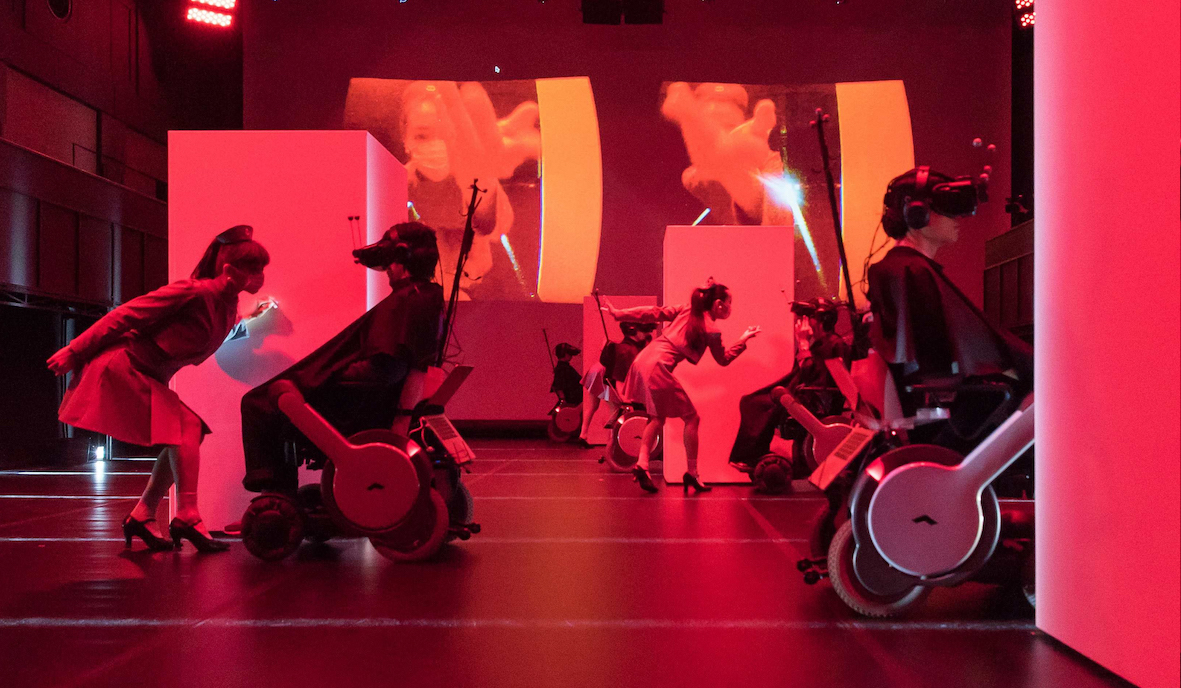 The emergence of online viewing models
In addition to the on-site experience, online streaming was available to establish a new expression model of post COVID-19 times. In the online viewing, viewers can select the viewpoint from multiple perspectives, which were specialized for online viewing that cannot be seen at the venue, such as a bird's eye view of the entire venue and the control screen of the controlling software.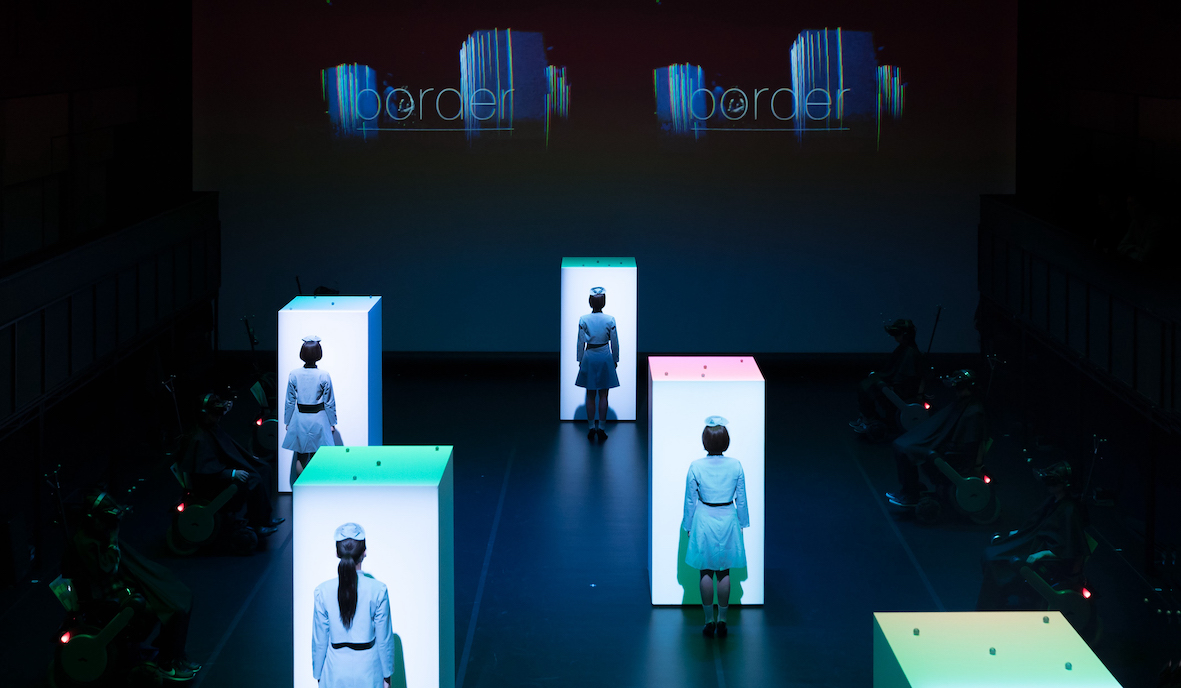 Comments
MIKIKO (ELEVENPLAY)
Future becomes uncertain and we are still trying to figure out everyday.
What we can do is to think about what expressions can be created only in this time to move forward without giving up, no matter how slow it is. The work we created five years ago has pushed us forward. Beyond time and space, I would like to share the present time with each person who is experiencing this work.

Daito Manabe (Rhizomatiks)
In 2015 when "border" was premiered for the first time, there were no applicable MR devices or systems, and we had to develop everything by ourselves. However, all the necessary tools are available, and concepts such as digital twin and mirror world are being discussed in the industry, and social implementation has gradually begun. We would like to show possibilities of the future by elaborating the work presented in 2015 using the most advanced technology available today.

Motoi Ishibashi (Rhizomatiks)
Camera resolution, CPU clock speed, memory capacity, the number of GPU cores, maximum speed of the mobility device, lumens of projectors… The performance of the hardware used for WHILL has "developed" over the past five years. Can the experience and expression "evolve"? To find out, we invite you to experience it both on-line and on-sight.

evala
After five years from the first premier, the world changes like this, and I can't perform or see my friends.
This is the "border", where the body is re-explored with technology.
I think that we can find new feelings and perceptions by updating this work now.

Takayuki Fujimoto (Kinsei R&D)
What is the experience? You get on a wheelchair and put on a VR goggle and headphones. Sight and hearing can be transmitted. You can view the work even from your room with the perspective of the person who is experiencing it at the sight. Still, what does it mean to come to the site? I want you to feel it whether you are watching on-line or on-sight.
Artists profile
Rhizomatiks
Rhizomatiks is pursues new possibilities in technology and expression, and works mostly on experimental projects with a strong research and development focus. Through R&D projects and creation, together with collaboration projects with artists and researchers from outside the company, Rhizomatiks will bring to the world more cutting-edge expressions and research than ever before.

ELEVENPLAY
Dance company directed by choreographer & art director, MIKIKO. ELEVENPLAY was founded by MIKIKO in 2009, in the hopes of creating dancers who would possess highly artistic sense and creativity on top of exquisite techniques, body and spirit. Composed of female dancers from a variety of genre, ELEVENPLAY has diverse methods of expression are diverse from stages to video works and still photos. We have many collaboration pieces with Rhizomatiks, directed by Daito Manabe and Motoi Ishibashi, we were privileged to present one of such pieces at "Sónar Festival," "Festival Internacional Cervantino," "MUTEK MEXICO," "MUTEK Montréal," and "Gray Area Festival."

MIKIKO
A stage designer/choreographer. As the director and chief choreographer of dance company "ELEVENPLAY", MIKIKO has been building up her very own creative world with the company's highly talented dancers. She has taken an artistic direction and choreographic direction for famous Japanese artists like Perfume, BABYMETAL, Ringo Shiina and more and for various MV, CM and stages. Her works have gained a highly reputation in the Media Arts world both of Japan and overseas. In the universe of MIKIKO, the mixture of the real and virtual worlds generates immediate fascination with her adept skills in utilizing the newest technology for her choreographies. She has collaborated with creators transcending a wide various of genres.

Daito Manabe
Tokyo-based artist, interaction designer, programmer, and DJ.
Launched Rhizomatiks in 2006. Manabe's work in design, art, and entertainment takes a new approach to everyday materials and phenomenon. However, his end goal is not simply rich, high-definition realism by recognizing and recombining these familiar elemental building blocks. Rather, his practice is informed by careful observation to discover and elucidate the essential potentialities inherent to the human body, data, programming, computers, and other phenomena, thus probing the interrelationships and boundaries delineating the analog and digital, real and virtual.

Motoi Ishibashi
Engineer / Artist. Director of Rhizomatiks. Born in Shizuoka, Japan in 1975. Graduated from the Department of Systems and Control Engineering at the Tokyo Institute of Technology and the International Academy of Media Arts and Sciences(IAMAS). Ishibashi is involved in a diverse range of activities, including art performances, music videos, and installations based on the production of devices and hardware. His work has been recognized by many awards, including the Prix Ars Electronica, Cannes Lions, and Japan Media Arts Festival.

evala
A musician and sound artist. He is leading the "See by Your Ears" project, where a new auditory experience is explored. Using a stereophonic sound system as a musical instrument, he has produced cutting-edge works with his unique "spatial composition" both in Japan and abroad. His most recent work, "Sea, See, She – To whom I Have Yet to See" (2020, Spiral Hall), which is based on the concept of "seeing movies with your ears", was premiered for the first time in the world with great praise. His current installation works include "Haze" (Towada Museum of Contemporary Art, until August 31, 2021) and "Grass Calls" (Ginza GINZA SIX rooftop garden, until February 23, 2021).
https://evala.jp/
https://seebyyourears.jp/

Takayuki Fujimoto
Kinsei R&D Director / Lighting designer. As a member of the Japanese art collective Dumb Type, he has been involved in stage works. Since the beginning of the 21st century, he has produced and announced stage and artworks using digital devices such as LED lighting under Kinsei R&D. He has been actively collaborating with domestic and foreign artists. Also, since 2010 he has been trying to add LED lighting to Noh performances at Yamamoto Noh Theater in Osaka.
https://kinsei.asia/
General Information
For more details please check "border 2021" official website. https://border.dance/en/
Credit
Project to Strengthen Earning Capacity of Cultural Arts
Organizers: Agency for Cultural Affairs, Visual Industry Promotion Organization (VIPO), Rhizomatiks
Planning and Operation: Visual Industry Promotion Organization (VIPO), Rhizomatiks
Stage Direction | Choreography: MIKIKO (ELEVENPLAY)
Performers: ELEVENPLAY
Music: evala
Lighting Design: Takayuki Fujimoto (Kinsei R&D)
Stage Manager: So Ozaki
Venue Support: Wacoal Art Center
Equipment Support: Color Kinetics Japan, ELSA Japan Inc, Nishikawa Communications Co. Ltd., ASK Corporation, ACOUSTIC FIELD INC.