Rhizomatiks' first large-scale solo exhibition in a museum setting, held on the occasion of our 15th anniversary in 2021.
"rhizomatiks_multiplex" offered an extensive overview of our cross-disciplinary creations to date, exhibited alongside newly updated versions of prominent past works.
Although originally slated to run from March 20th through June 22nd, the novel coronavirus pandemic unfortunately forced the museum to temporarily close twice during the exhibition period (from April 25th to May 11th, and again from May 12th to May 31st).
Yet these unforeseen closures prompted further experimentation in response to an ever-changing world, including:
1. The creation of an online platform that provided an immersive remote-viewing experience (24,000 users and 270,000 pageviews during the exhibition period).
2. A live-stream of the RTK Laser Robotics Experiment that continued to run autonomously in the museum's "Sunken Garden" courtyard.
3. A talk event titled "Staying Tokyo," featuring exhibition curator Yuko Hasegawa (Director of the 21st Century Museum of Contemporary Art) in discussion with Daito Manabe and Motoi Ishibashi from the exhibition venue during the closure.
Despite the adverse circumstances posed by the pandemic, the exhibition still managed to welcome more than 50,000 visitors in the 53 days the museum was open, with reservation systems to stagger attendance and ensure museumgoer safety.
Exhibition Period
Sat. March 20th (National Holiday) through – Tue. June 22nd, 2021
Organized by
Museum of Contemporary Art Tokyo operated by the Tokyo Metropolitan Foundation for History and Culture
Supported by
The Agency for Cultural Affairs, Government of Japan (FY 2020)
Sponsored by
Bloomberg L.P. / mixi, Inc.
Technical cooperation from
Panasonic Corporation / Canon Marketing Japan Inc. / DataSign Inc. / Sony Music Entertainment (Japan) Inc. / Kyuzan Inc.
In cooperation with
AMUSE INC. / UNIVERSAL MUSIC LLC / Culture Vision Japan Foundation Inc. / Abstract Engine Co., Ltd.
---
List of Works (Excerpt)
Rhizome (2021)
Video projection
Video projection of the Rhizomatiks logo, symbolizing the exhibition's main visual in the form of a rhizome (subterranean stem), installed at the venue entrance as a prologue to the exhibition.
This work features video generated using data from 15 years of source code accumulated by Rhizomatiks, harvesting function names, variable names, and other characteristics that were vectorized and mapped in 3D.
This video encapsulated the diverse activities of Rhizomatiks, which has grown in diverse directions as a decentralized collective pursuing rich new forms of expression, akin to the rhizomatic roots that freely spread throughout the fecund soil and spawn new offshots far and wide.
Technical Cooperation from the Panasonic Corporation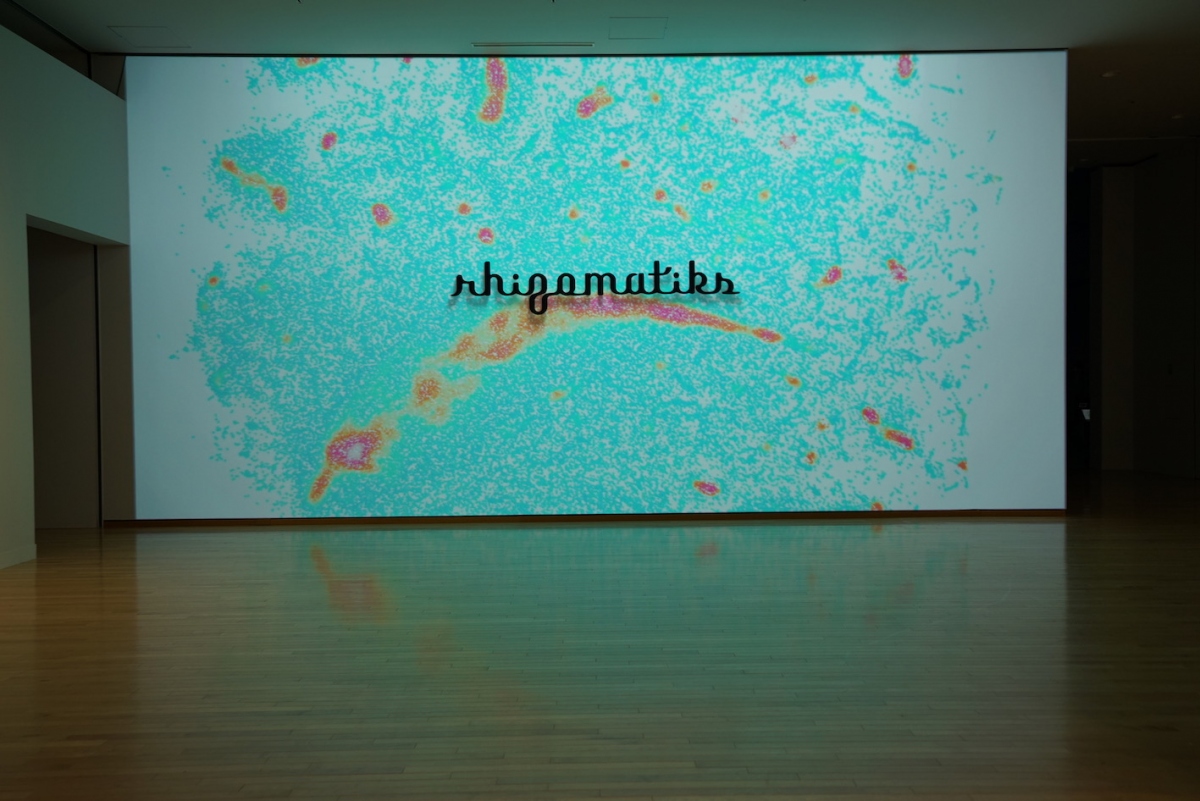 Rhizomatiks Chronicle
2021
Video installation
Video installation tracing the creative history of Rhizomatiks from its inception in 2006 through its metabolic growth into the present day. By adding metadata encompassing methods, techniques, and media, the project visualized how each of our 575 projects have developed over the past 15 years, showing the correlation between these diverse projects spanning many industries and fields.
Technical cooperation from Canon Marketing Japan Inc.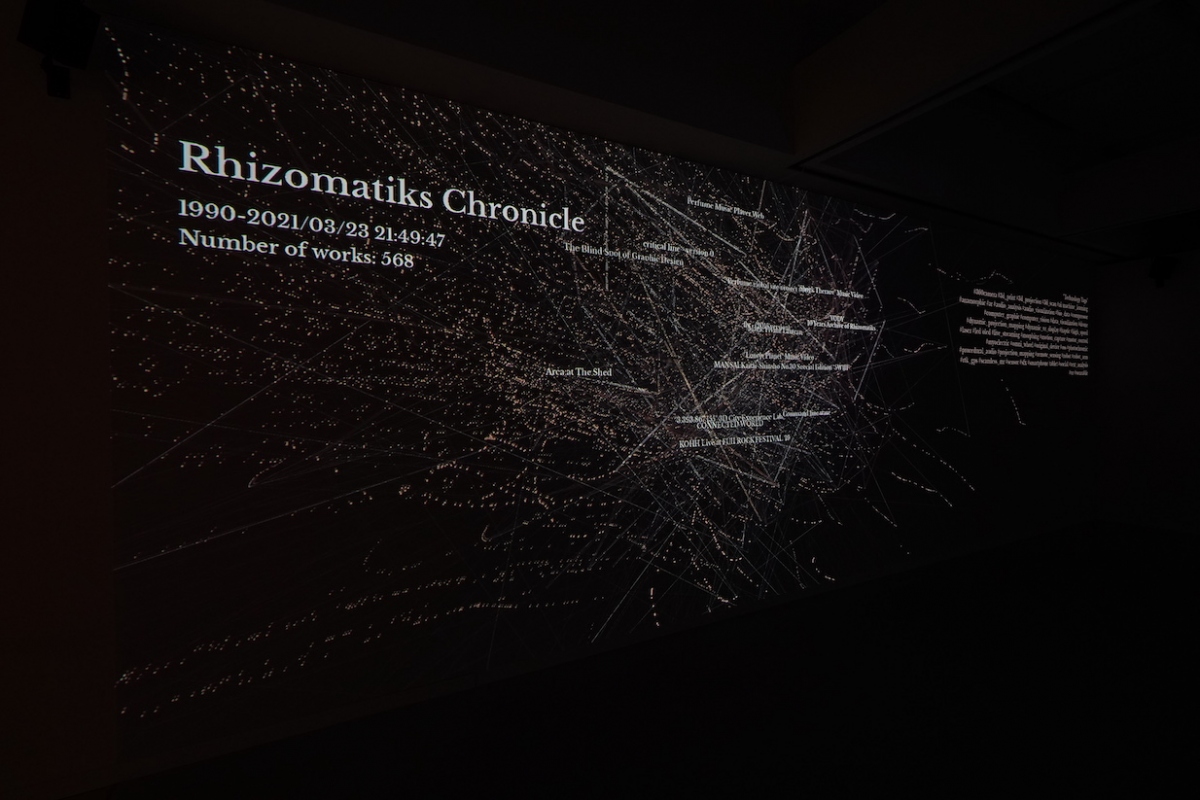 NFTs and CryptoArt-Experiment
2021
Visual image installation
A new installation visualizing how digital artwork known as "Crypto Art" trades through diverse hands on the marketplace, supported by NFTs — Non-Fungible Tokens that guarantee uniqueness, permanence, and interchangeability through the use of digital data technology that acts as an unforgeable certificate of authenticity and thus value. The work sought to present a tangible snapshot of the Crypto Art market and elucidate some of the potential possibilities and issues the medium has posed since NFTs crossed the chasm into the art world.
One project introduced in this installation, Gold Rush – Visualization + Sonification of OpenSea activity (2021), was created with OpenSea event data over the day preceding and following 10am EST on March 11th, 2021 when MetaKovan purchased an NFT by Beeple for $69,346,250 in an auction at Christie's. The work reflected on this watershed moment for Crypto Art and NFT Art through data visualization and machine learning technology (Convolutional Neural Network, t-SNE).
Technical cooperation from Canon Marketing Japan Inc. / Kyuzan Inc.
Special thanks to KIZUNA / BlockchainPROseed
Rhizomatiks×ELEVENPLAY "multiplex"
2021
AR installation, mobile robotics and mixed media
Installation featuring motion data from five dancers of ELEVENPLAY (the dance company led by director/choreographer MIKIKO), projected images, and a mobile robot, presented in two physical exhibition spaces and online. More than a transposition of real expression in virtual space, the project was a hybridization that sought to create an environment for a new breed of humanity from multiple shifting perspectives.
Technical cooperation from the Panasonic Corporation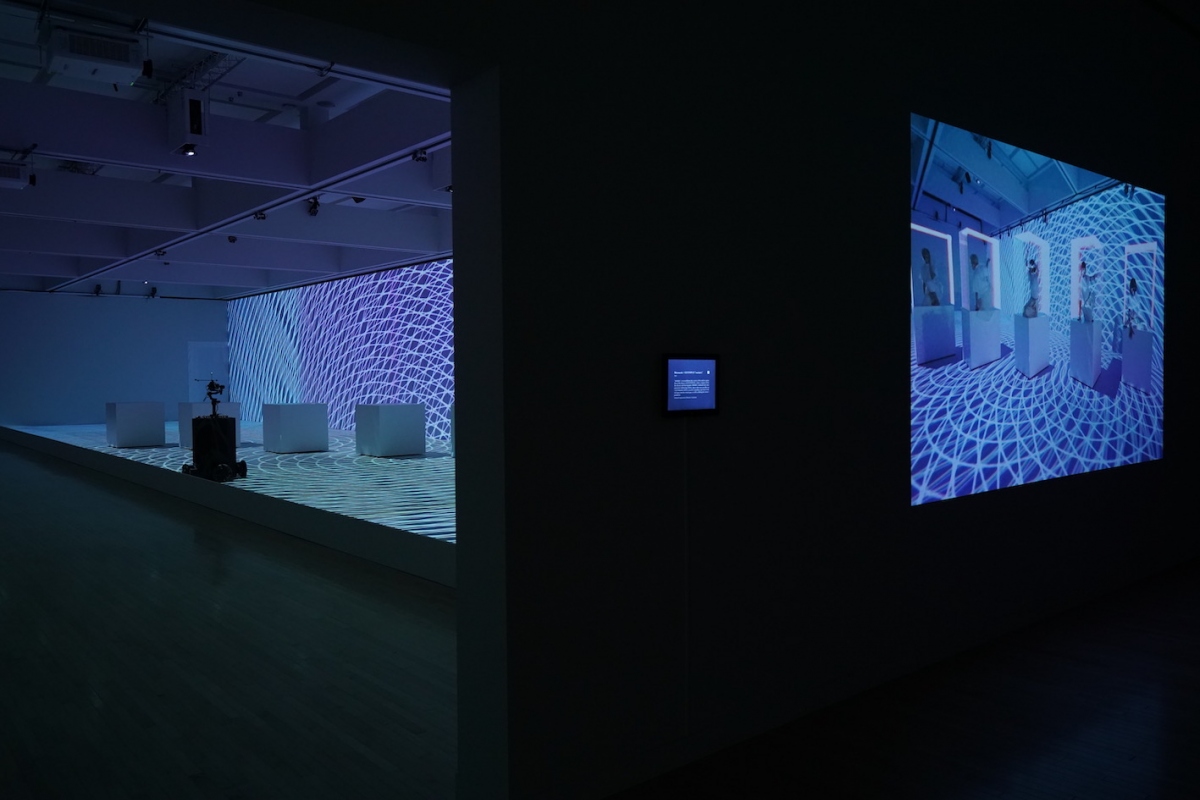 RTK Laser Robotics Experiment
2001
RTK-GNSS
Proof-of-concept of a traveling robot utilizing RTK-GNSS (Real Time Kinematic Global Positioning Satellite System), a technology that enables positioning with a margin of error of several centimeters triangulated based on satellite and ground "reference station" positioning data. Over the nearly three-month exhibition period, the robot ran autonomously in a courtyard, powered by solar panels. At night, laser beams from the robot pointed out the location of GPS and other positioning satellites, highlighting processes that are otherwise invisible to the naked eye.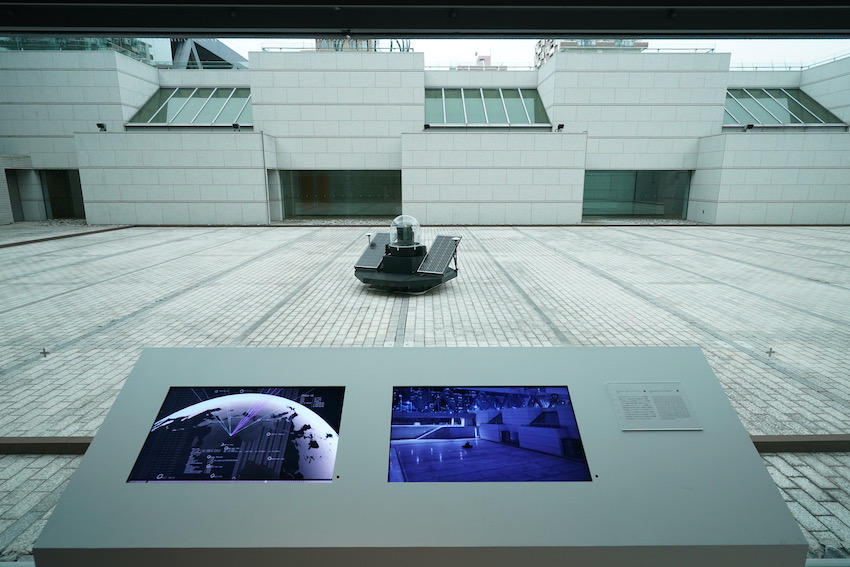 particles 2021
2021
Installation (ball circuits, spherical devices, semiconductor lasers, computers, etc.)
A reworking of our award-winning installation particles (originally created in 2011) with extensive technical updates.
In this work, dozens of balls roll along a giant rail helical rail, creating the illusory afterimage of flickering lights floating through the air.
For this exhibition, the work was updated with external cameras that were used to track the position of the balls and illuminate them with lasers, enabling the real-time generation of a uniquely ethereal and three-dimensional visual effect.
-particles (2011) https://rhizomatiks.com/en/work/particles/